The creation of an industry skill pool for technicians, supervisors and engineers, for both new entrants and experienced personnel was paramount following the start of major resource; however, a skills gap existed throughout PNG's workforce and this saw thousands of jobs provided to expatriates at great expense to businesses and to the detriment of Papua New Guinea nationals.
To close this skills gap and for the growth of a national workforce, Kumul Petroleum as the national oil and gas company of PNG established the Academy on the 27 November 2015 and invested directly into KPA, to build a world class facility with the addition of the 'Safe Live Processing Plant' with the latest "state of the art" centralised control room to provide a unique 12 month hands-on skills training programme.
The oil and gas industry in PNG has been growing steadily through the recent past, with several new projects agreed and ready to start. KPA has been providing training for this sector since 2017, with nearly 100 trainees graduating so far and with many more to complete the training this year; We pride ourselves on 100% pass rate by careful selection and an intense tutorial and peer support system. The trainees are from all over PNG with nearly 25% being females; this shows that this is no longer a male dominated trade!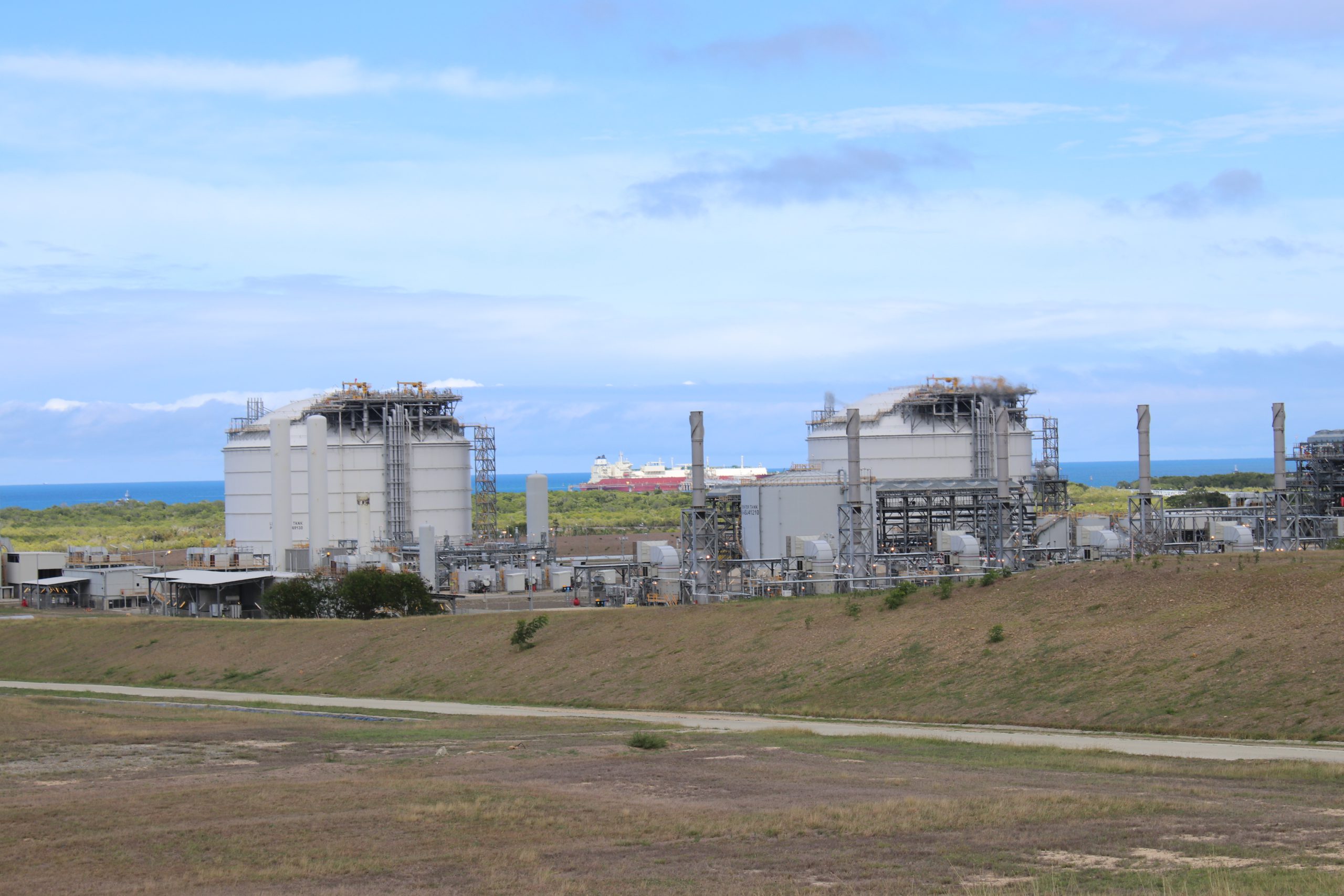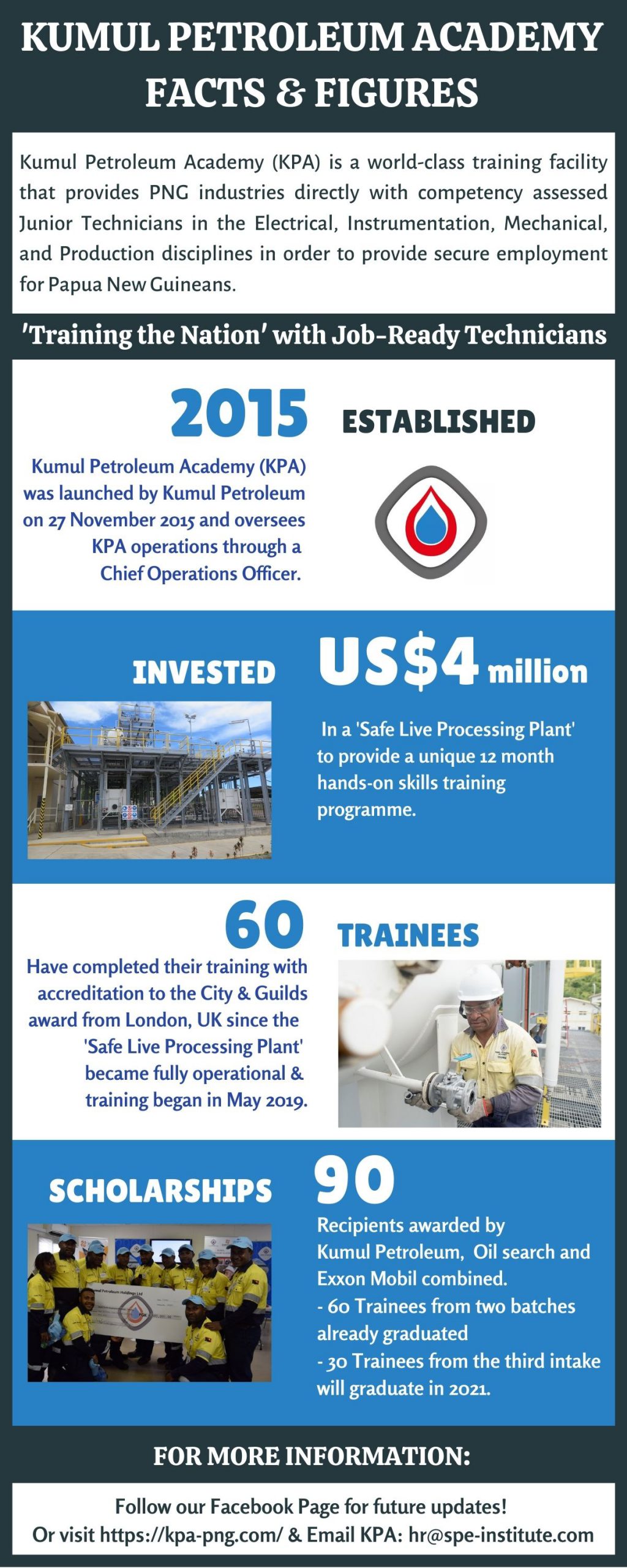 From 2017 until early 2023, 178 trainees have graduated from the Kumul Petroleum Academy. All our national graduates pass out as developed individuals with a recognised certification, enabling them to join the workforce able to demonstrate their professional qualifications. The ultimate result is that gradually positions previously filled by expatriates will be taken over by Papua New Guineans with the necessary qualifications and experience.
In Papua New Guinea, the Kumul Petroleum Academy is the sole provider of oil and gas operations and maintenance technicians with electrical, instrumentation, plant processing operation and mechanical training. Academy programs, accredited with City and Guilds of London Institute, also incorporate Safety and the Environment elements, reinforcing a safety and behavioral safety culture in our trainees, ready for the work environment that exists in all petroleum work sites in the country, operated by companies such as ExxonMobil, Total Energies and Santos.
The Safe Live Process Plant, part of our facility, is a world leading development, and plays an important part in our competency training technology, ensuring that trainees emerge as safe, competent and skilled junior technicians ready for deployment in industry. Practical work in our workshops and on the Safe Live Process Plant, a fully-operational oil processing plant, constitutes 70% of student's training time.
Health, Safety and Environment studies and practices feature largely in all our programs. As in industry, no task is carried out at the Kumul Petroleum Academy without reference to these controls. Using industry standard best practice methods and resources, training at the Academy makes a step change difference in the development of our students. The result is that our trainees are able to adapt to industry workplaces and attain full job competency at a quicker and safer rate than employees without such training.
Simply put, our mission at the Kumul Petroleum Academy is to maintain the high quality of training and development skills of our staff and trainees, fulfilling the requirements of PNG national standards, companies in the petroleum industry and our awarding body, City and Guilds.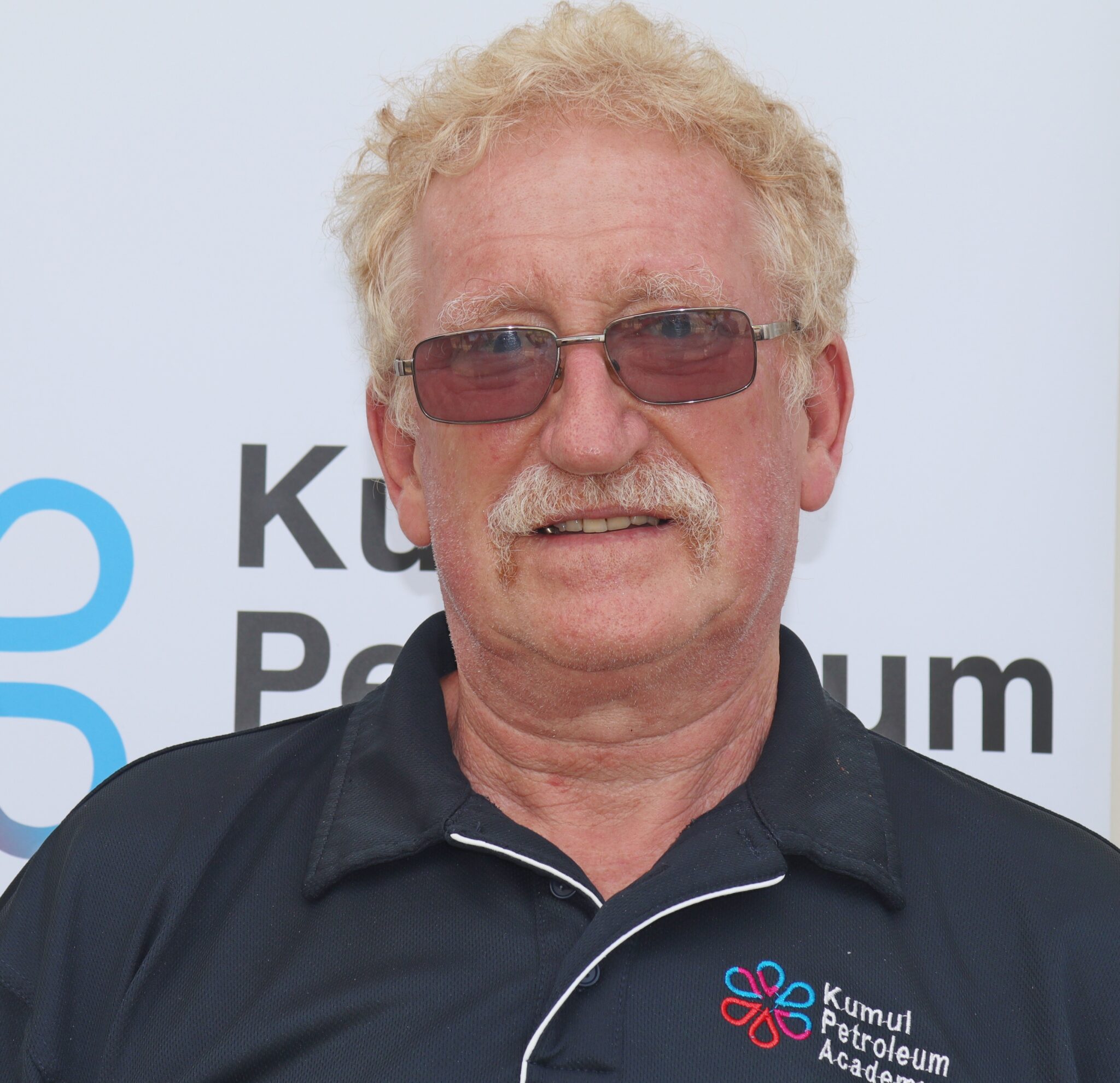 David John Podmore
Acting Training Center Manager
Kumul Petroleum Academy